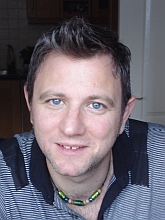 Brian Conaghan was born and raised in the Scottish town of Coatbridge. He is a graduate of Glasgow University, where he received, among other qualifications, a Master of Letters in Creative Writing. After living and working in Italy for five years he now teaches English in a Dublin Secondary School.
The Boy Who Made it Rain
Paperback: £9.99 €11.75 US$14.95
ISBN: 978-1-907230-19-6
E-book £4.99 €5.99 US$6.99
ISBN: 978-1-907230-37-0
Published by Sparkling Books
Printed book
£9.99

See right for other store links
The Boy Who Made it Rain
Brian Conaghan's first book
We published Brian's first book in 2011 and sold Translation rights in Dutch, German, Korean and Portuguese. Further books by Brian were published by Bloomsbury in 2014, 2016 and 2017, one of which won the Costa Children's Book Award.
Reviews of The Boy Who Made it Rain
"innovative and insightful... I couldn't wait to devour part two" Read full review
Times Educational Supplement
"I was utterly flabbergasted... one of the most compelling novels I've ever read" Read full review
Heffers Review, Cambridge
"definitely up there with the modern classics"
What? Magazine
"Brilliant writing, brilliant structure, brilliant book"
Des Dillon, author of Me and Ma Gal
"A must-read...an innovative novel that will keep you glued to the story until you turn the last page and learn the final outcome... Thought provoking, mind stimulating and characters with individual voices that are heard loud and clear. The Boy Who Made it Rain is a must/read for everyone. Author Brian Conaghan brings to light the issue of bullying, class issues, prejudice and the difficulties teens face growing up in any society or country today."
Fran Lewis, New York Reviewer, Educator, TV chat show host and interviewer
The Book
When a school tragedy happens, you probably lay the blame on society, the Internet, TV or violent films. Not many of you think it could be the parents' or the teachers' fault, do you? But then, is it? We all have our say, spout off opinions in different directions according to our view of the world. In this novel, too, they all have their say, but who's right?
At only sixteen Clem's world is turned upside down. His father, a travelling salesman and a loser, is transferred from Eastbourne to Glasgow and with him go Clem and his passive mother. But his new sink school is rough. Clem's posh accent, love of learning, and attraction to the school beauty, Rosie, soon make him the target for McEvoy's gang of thugs whose most important ambition in their depraved lives is slashing faces.

Print book £9.99




Text of Heffer's review
I will unashamedly admit that when I began reading The Boy Who Made It Rain, I was utterly flabbergasted. I began reading it early in the morning and I didn't put it down until I had finished it that evening, and though it's only 196 pages long, this is perhaps one of the most compelling novels I've ever read.

The premise of the book is of the relocation of a family from Eastbourne to Glasgow, and of the stigma faced by the son as he tries to settle into the local school. Interestingly, Conaghan initiates the novel in a series of first person interviews with several (seven in fact) characters. This automatically initiates a much stronger relationship with the text because the multiple first-person perspectives allow a great deal of empathy and understanding to develop for each character very rapidly.

Very early on, it becomes apparent that Conaghan is building up to something, his interviews taking on the shape of statements. Each 'statement' is crafted to be long enough to build up the picture just a little bit more, to give just a little more away, but not enough to say with any certainty the final outcome. And this is the crux: long before you finish the first half of the novel with the character's statements, to move onto the second half concerning the protagonist's recollection of events, you have a horrible inkling of what's going to happen. Grim inevitability coupled with fantastic word-craft is what makes you turn those pages, and Conaghan does not disappoint... When you turn that last page I guarantee you will feel numb with shock.
The Boy Who Made it Rain: ISBN 9781907230196
Ebook ISBN: 9781907230370
middle grade, YA, young fiction, teenage fiction, romance, school, Glasgow, Y A
Second book by Brian Conaghan: When Mr Dog Bites
Third book by Brian Conaghan: The bombs that brought us together
Preview: click the cover to read an extract now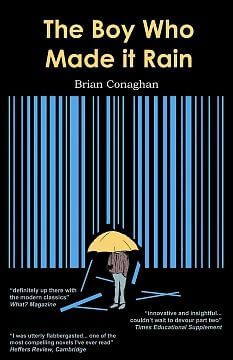 Printed book
ISBN 9781907230196
Buy direct from Sparkling Books £9.99

Other buying links:
Free shipping to 100 countries: Wordery
Amazon: USA UK Australia Canada France Germany India Italy Japan Mexico Spain
UK: Blackwells Foyles Hive MyBookSource Speedyhen Waterstones
Austria: Thalia Denmark: Saxo Finland: Suomalainen
Germany: Hoser & Mende Hugendubel Kulturkaufhaus Rombach Thalia
Netherlands: abc bol Athenaeum Norway: Bokkilden
Spain: IberLibro Sweden: Adlibris Bokus cdon
Switzerland: Bider & Tanner Buchhaus Orell Füssli Stämpfli
E-book £4.99 US$6.99 buying links:
ISBN 9781907230370 price may vary.
Amazon Kindle: UK USA Australia Brazil Canada France Germany India Italy Japan Mexico Netherlands Spain
E-pub: global: apple google kobo Redshelf
SE Asia: Indonesia: E-sentral Malaysia: E-sentral Singapore: E-sentral
USA: Barnes & Noble books-a-million Bookshout!
UK: Lovereading Speedyhen
Australia: Angus & Robertson
Belgium: bol.com Brazil: Livraria Cultura
Canada: books-a-million Chapters Indigo
China: CNPeReading
Czech Rep: Shakespeare Denmark: Saxo
Estonia: Krisostomus France: FNAC
Germany: Bücher.de Ciando ebook.de Hoser & Mende Hugendubel Rombach Thalia txtr.com
Ireland: Easons Italy: La Feltrinelli Mondadori
Netherlands: American Book Center bol.com
Norway: Bokkilden
Philippines: National Book Store Romania: Elefant
South Africa: Takealot Sweden: Adlibris bokus Cdon
Switzerland: Orell Fuessli
Turkey: Dogan (D&R)
Apps: Bookmate 24symbols Playster Scribd TotalBoox