The Eloquence of Desire
Amanda Sington-Williams
Reviews
"For those who know me, giving a book a 5 is something I don't do. My belief is if a book receives a 5 rating, it better be worthy of a Nobel Prize in literature. The Eloquence of Desire is one such book. Ms. Sington-Williams has written a book that flows rhythmically, lyrically, like poetry or a song, but touches on every facet of human nature.

"This is not an easy read. Filled with emotion and every facet of human nature laid bare before the reader, this story will grip your heart and bring your emotions to the foreground. I don't think anyone will come away from this story untouched."
Rie McGaha, Romance Writers United
Susan Abraham
Bookish Magpie
Book Pleasures
"Wow! Amazing novel..."
Ana Carter, Reviewer, Canada
"THE ELOQUENCE OF DESIRE is an engrossing and atmospheric novel. This story of a married couple in the 1950s banished to Malaya after the husband's affair with the boss's daughter has the sharp edge, clarity and narrative drive of a Somerset Maugham novel.
"But Amanda Sington-Williams brings her own distinctive voice to the material. The descriptions of Malaya evoke the people, landscape and climate vividly and sensuously. The sounds and smells are almost tangible and there is a palpable background of unease and tension as the political situation constantly threatens to explode into violence.
"At the same time the writer has a wonderfully compassionate and insightful view of her all too human and believable characters. This is particularly true with George, the husband. On one level, this man is a selfish serial adulterer but we are lead to understand his motives and he emerges as a complex, if fallible, human being. The same understanding is offered to all characters, major and minor.
"Thoroughly recommended!"
Stephen Wyatt, Award-winning writer of MEMORIALS TO THE MISSING.
"I grew up in Singapore and Malaysia in the 1950s. This book evoked a whole world of sights, smells and sounds. It captured the fear and uncertainty of the times and the very needed stiff upper lips. I recall vividly traveling from Singapore to Ipoh in an armored car and stopping at each armed checked post. Other than that, this was an engrossing read and extremely well done. I found my book club recommendation for this year!"
Genene Cote, Reviewer, USA
"Set in the 1950s, The Eloquence of Desire follows the disintegration of a marriage and combines it with the heady descriptions of life in Ipoh, in Malaya. At the start of the novel we are made aware that George is being punished for an extra marital dalliance with the Boss's daughter, by being sent abroad. George's wife Dorothy does not wish to accompany him, but for the sake of propriety she agrees to leave their daughter Susan behind at boarding school in England, and goes with George. What then follows is the story of deception, infidelity and heartache.
"The story is well written and certainly maintains interest throughout with some creative descriptions of life in the tropics. The boredom and languor of the 1950's colonial experience is captured as is the political unrest ... I didn't really warm to the characters except maybe for Susan, who was I think badly treated by both her family, and life in general.
Josie Barton, Reviewer, UK
"George is obsessed with the woman he has been having an affair with, but when her father, who is also George's boss, gets wind of the situation he sends George and his wife off to do company business in Malaya. The couple opt to send their daughter Susan to boarding school. George's wife, Dorothy is a woman of her time, the 1950′s required that a woman kept her mouth shut, even when she knew her husband was being unfaithful. As time passes, Dorothy begins to slip into her own world and George, thought still obsessing over Emily, moves on to a new lover. Susan, meanwhile, is having problems of her own, she begins to hurt herself out of fear and frustration about her parents unhappy marriage.
"While the characters in this book were a little too self obsessed to generate real sympathy, I believe that that may have been the author's intention. The vivid descriptions of tropical Malaya are evocative of a time and place long gone. An absorbing read."
Rosemary Smith, Librarian, USA
The book
Set in the 1950s, The Eloquence of Desire explores the conflicts in family relationships caused by obsessive love, the lost innocence of childhood and the terror of the Communist insurgency in Malaya.
Richly descriptive and well-researched, the story told by Amanda Sington-Williams unfolds as George is posted to the tropics in punishment for an affair with the daughter of his boss. His wife, Dorothy, constrained by social norms, begrudgingly accompanies him while their twelve year old daughter Susan is packed off to boarding school.
Desire and fantasy mix with furtive visits, lies and despair to turn the family inside out with Dorothy becoming a recluse, George taking a new lover, and Susan punishing herself through self harm.
The Eloquence of Desire is written in Sington-Williams' haunting and rhythmical prose.






The Eloquence of Desire by Amanda Sington-Williams, ISBN: 9781907230165 (Paperback) 9781907230233 (Ebook)
Click cover to read free sample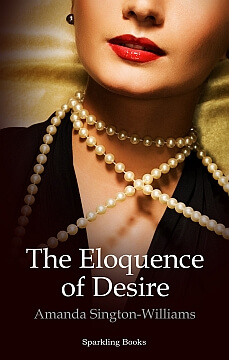 Printed book
ISBN 9781907230165 (USA 9781907230752)
Buy direct from Sparkling Books £9.99

New US print edition now available:
or buy from community store bookshop.org
Other buying links:
Free shipping to 100 countries: Wordery Book Depository
UK: Bookshop.org Books etc OnBuy Rarewaves Waterstones
Austria: Thalia Brazil: Amazon Submarino
Canada: Amazon France: Amazon FNAC Galignani WHSmith
Germany: Amazon Hugendubel India: Amazon
Indonesia: Open Trolley Italy: Amazon Japan: Amazon
Korea: Aladin Yes24 Malaysia: Kinokuniya Open Trolley
Netherlands: abc bol Athenaeum
New Zealand: Booktopia
Norway: Bokkilden Poland: Allegro
Portugal: FNAC Singapore: Open Trolley
Sweden: Adlibris Bokus Switzerland: Buchhaus
Turkey: Amazon
E-book £4.99 US$6.99 buying links:
ISBN 9781907230233 price may vary. Lower prices apply in some less-developed countries.
In addition to the list below, many more stores and libraries offer this book.
Amazon Kindle: UK USA Australia Brazil Canada France Germany India Italy Japan Mexico Netherlands Spain
E-pub: Global: apple ebooks.com google kobo
Apps: 24symbols Bookmate Playster Scribd
USA: Barnes & Noble books-a-million
Australia: Angus & Robertson
Belgium: bol.com
Canada: books-a-million Chapters Indigo
China: CNPeReading DangDang JD.com
Czech Rep: Shakespeare Denmark: Saxo.com
Estonia: Krisostomus France: FNAC
Germany: ebook.de Hoser & Mende Hugendubel Rombach Thalia
Italy: La Feltrinelli Mondadori Malaysia: E-sentral
Netherlands: bol.com South Africa: Takealot
Switzerland: Orell Fuessli
Libraries only: Odilo